Based in Honolulu, the Galliard String Quartet is committed to exploring and interpreting the musical masterpieces of the past and today.
Fueled by passion and sometimes coffee, the Galliard String Quartet's romance for the music of Beethoven, Brahms, Dvorak, Schubert and many others is unparalleled. Founded in 1982, the Galliard is known throughout the islands for their uncompromising commitment to performing classical music of the highest caliber. All four members of the present Galliard are members of the Hawai`i Symphony Orchestra and are also seasoned teachers and music educators in the community.
The Galliard is one of three professional ensembles promoted by Chamber Music Hawaii, an independent 501c3 Hawai`i nonprofit whose mission is to enrich Hawaii cultural life and promote appreciation and understanding of chamber music, through concerts and educational outreach programs in various communities throughout the state. Though the Galliard performs predominantly on Oahu, the group also tours to Hawaii, Maui, Kauai, Molokai, and Lanai islands for concerts and educational outreach in public libraries, schools and even private homes.
Recent highlights and collaborations include acclaimed pianist Wu Han, conductor and silent film historian Rick Benjamin, Onium Ballet, Hawaii Vocal Arts Ensemble and Chaminade University, and composer Jon Magnussen.
Wu Hung & Helen Liu, violins
Colin Belisle, viola
Sung Chan Chang, cello
Phone
(808) 772-6837
FOLLOW US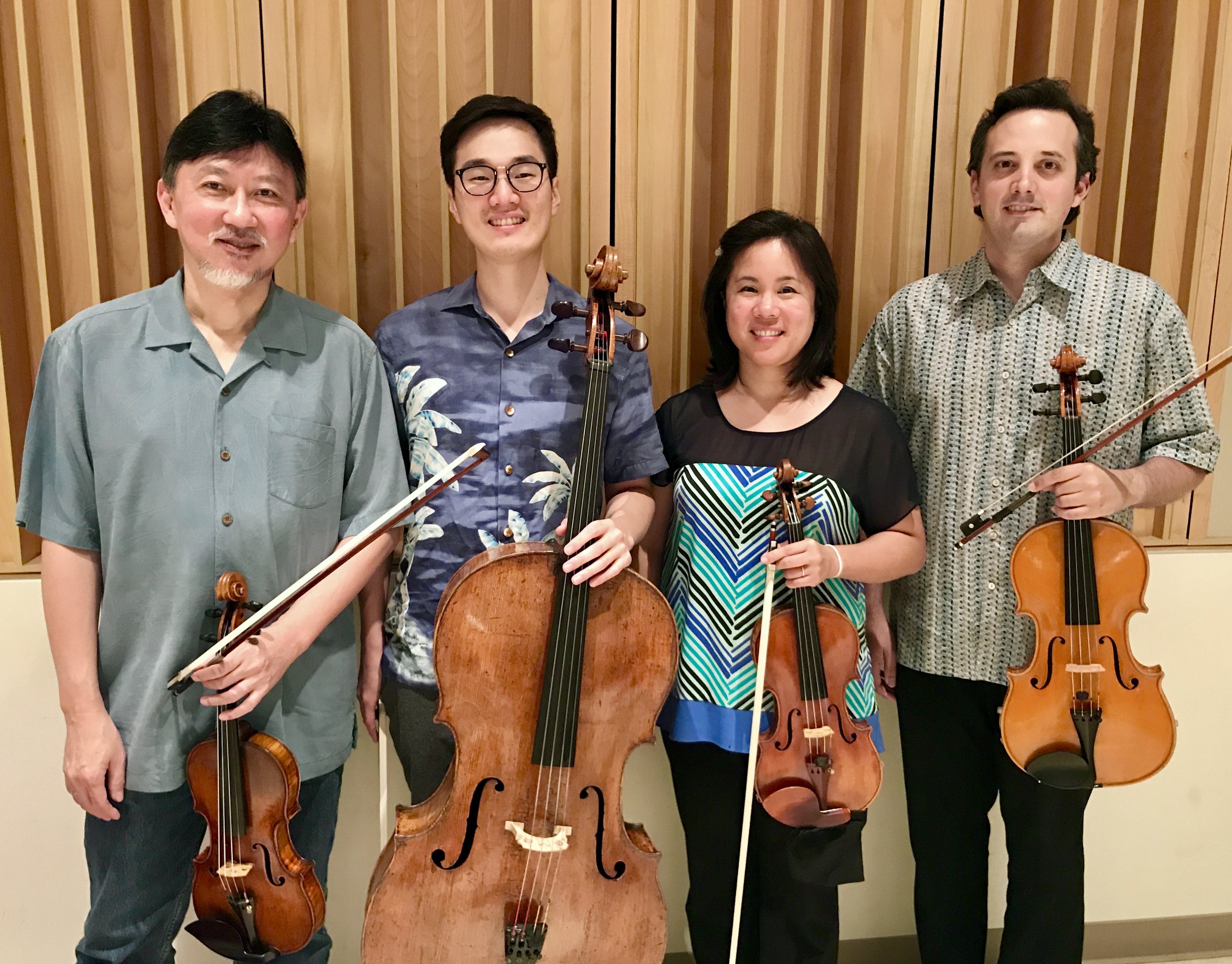 wu hung, violin
Wu Hung began violin studies at the age of 5 in his native country of Taiwan. A mere 5 years later he appeared as soloist with the Taipei Symphony on a television broadcast. During the course of his music studies in Taiwan, he has won the first prize for the national string quartet competition. At the age of 17, he directed a chorus and a chamber string orchestra; both took the first prize in the national competition.
After completing his obligatory tour of duty in the Taiwanese military, he came to the United States in 1986 to study at the Hartt School of Music in Connecticut where he earned his Artist Diploma in violin performance.
He went on to receive his Master of Music degree with honors from New England Conservatory in Boston.
He has been the 2nd violin Principal of Honolulu Symphony (now Hawaii Symphony) since 1993. In his free time, he enjoys working on bows for stringed instruments, teaching, and Chinese cooking.
A native of Potomac, Maryland, Dr. Liu is an active performer and educator in solo, chamber and orchestral settings. She is a member of the Hawaii Symphony, violinist of Galliard String Quartet, and a performer with Chamber Music Hawaii in Honolulu. Dr. Liu is also committed to the role of music in education and has taught students at the elementary, secondary, and collegiate levels. She is currently on the violin and chamber music faculty at Punahou School, Iolani School, BYU-Hawaii, and serves as a string clinician at Hawaii Youth Symphony's Pacific Music Institute since the summer of 2006.
Dr. Liu holds degrees in violin performance from Stony Brook University (D.M.A.), New England Conservatory (M.M. and G.D. with Concentration in Music-in-Education), and University of Maryland – College Park (B.M.) where her principal teachers include Pamela Frank, Philip Setzer, James Buswell, and Daniel Heifetz. Her chamber music experience is molded by members of world-renowned ensembles such as the Mendelssohn, Cleveland, Guarneri, Borromeo and Emerson String Quartets.
In addition to her classical and baroque performances, she is a founding performer with The WAITIKI 7, a critically- and popularly-acclaimed modern exotica ensemble, with whom she has recorded the albums Adventures in Paradise and New Sounds of Exotica. In her spare time, she enjoys traveling and discovering new tastes in food and drink with her husband and spending time with her parakeets.
Colin Belisle currently lives in Honolulu where he is a member of the Hawaii Symphony Orchestra and member of Chamber Music Hawaii's Galliard String Quartet. Colin Belisle received a Master of Music degree and Graduate Diploma from the New England Conservatory, and a Bachelor of Music degree from Lawrence University Conservatory of Music. His teachers include Carol Rodland, Matthew Michelic, Kim Kashkashian, and Simon Rowland-Jones at the Royal College of Music in London.
In addition to the Hawaii Symphony, Colin has performed regularly with the Rhode Island Philharmonic, New World Symphony in Miami, and Portland Symphony. He was a fellow at festivals such as Aspen Music Festival, Banff, National Orchestral Institute, and Bowdoin. As a chamber musician he has performed solo and chamber works in New York City's Carnegie Hall, Merkin Hall, Symphony Space, Boston's Jordan Hall, Boston Symphony Hall, and has collaborated professionally with members of the Borromeo, Cassatt, Cleveland, New Hellenic, Bryant Park, and Turtle Island string quartets.
An enthusiast of contemporary music, he has performed the world-premiere of Augusta Read-Thomas' Incantation for solo viola, as well as premiering works by Michael Gandolfi, Kenji Bunch, Martin Bresnick, Mohammed Fairouz, Pozzi Escot, Halim El-Dabh, and Jennifer Higdon. He has recorded works of the Pulitzer-Prize-winning composer, Yehudi Wyner, on his album De Novo, which is available on Naxos and Albany labels.
Sung Chan Chang is the Associate Principal cello of the Hawaii Symphony, and is an active performer in many local ensembles on the island of Oahu. He began playing the cello at age 7 in his hometown, Seoul, South Korea. After he made his debut with the Seoul Philharmonic Orchestra in 2000, he was accepted the following year into the Seoul Ye-Won Art School with prestigious honors, which propelled his entrance to the Juilliard Pre-College Division as a scholarship student in 2002. He continued his music studies at The Korean National University of Arts with Hyoung Won Chang and Myung-Hwa Chung. After receiving his Bachelor's degree in 2008, he went to The Juilliard School and studied with Richard Aaron and Andre Emelianoff for his Master of Music degree in 2010. In 2012, he received the Artist Diploma from Yale University, where he worked with Hee Duck Lee and Aldo Parisot. During his formative years, he had won prizes in numerous competitions including New Jersey Philharmonic Competition in 2002, 44th Annual Sorantin Young Artist International Competition and the Juilliard Concerto Competition in 2003, Aspen Concerto Competition and New Jersey Young Artist Competition in 2004, BMF Competition in 2006, Joong-Ang Daily News Competition in 2007, Music Academy of the West Concerto Competition and Isang Yun International Cello Competition in 2009, and Northwestern Concerto/Aria Competition in 2014. Sung Chan is currently pursuing his Doctor of Musical Arts degree at Northwestern University under the guidance of Hans Jørgen Jensen.
As an orchestral musician, he has performed with American Academy of Conducting and Aspen Orchestra, Juilliard Pre-College Orchestra, Music Academy Festival Orchestra, New Jersey Philharmonic Orchestra, New Jersey Symphony Orchestra, Northwestern University Symphony Orchestra, Seoul Chamber Orchestra, and Seoul National Symphony.
As a soloist and a chamber musician, he has performed in KBS Hall, KNUA Hall, Kulas Hall, Kumho Art Hall, Paul and Morse Halls at Lincoln Center, Lutkin Hall, Peter Jay Sharp Theater, Pick-Staiger Concert Hall, Sejong Grand Hall and Chamber Hall, Seoul Arts Center Concert Hall and IBK Chamber Hall, and Sprague Hall. His numerous music festival appearances include the Music Academy of the West, The Perlman Music Program, Aspen Music Festival, The Great Mountains Music Festival, and Bowdoin Music Festival.
Songs of Liliuokalani
by
Galliard String Quartet
Contact Us
Let us enhance your special event with high quality music making that sets the appropriate mood and atmosphere for memories that will last a lifetime.
For more information, go to Our Services.
Please complete the form below
We'll respond as soon as we can. Mahalo!